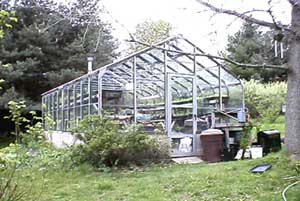 You will notice that we have discontinued with the plant list in our annual newsletter. Our plant selection changes from year to year and we feel that if we give you a list, we should have all the plants on it available to you. Over the years it has not been profitable to keep our everlasting plants on the racks for our customers. So we have gone to a "call" method. If you wish to have a flat or flats of everlastings, you need to let us know by the end of March so we can have them ready for you. There are also a lot of plants we do not keep on the racks since the demand for them is small. We have them, so if you do not see the plant you want, be sure to ask and we will do our best to accommodate you.
There are quite a few new varieties this year along with our unique regulars. This year we will again have a LIMITED supply of purple and yellow Tree Peonies. If you have ever seen these gorgeous bushes in bloom, you will want to have one of your own. If you wish to purchase one of these, please call to have us reserve one for you. They are again in short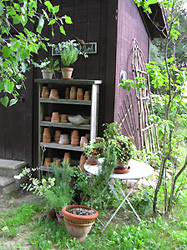 supply this year. We have added to our list of lavenders. We carry quite a few tender lavenders. A lot of people do not wish to take the time to care for a tender plant - one that will not survive our winter if left out of doors. If you keep them in pots all summer, and just bring the pot in the fall, you will have no trouble having the plant survive the winter. They will bloom continuously in your house, and the smell is fantastic. When spring comes, out they go again. Lavenders are easy to care for as a house plant since they are not susceptible to bugs or diseases. We have a few new rosemaries this year also. One that we carried in a limited supply last year was Barbeque Rosemary. This rosemary has a light barbeque taste, great for grilling in the summer. We have a miniature rosemary for those of you that have fairy gardens or trough gardens. Along with the miniature rosemary, we have elfin. Elfin thyme is a very low growing, non flowering thyme. These are just a few of the new varieties we have. Come and enjoy browsing through our plants racks - we know you will find something just perfect for your garden or patio.
| | |
| --- | --- |
| | |
| Old Fashioned Rose | Attar of Roses |

Herb of the Year - Dill
The Romans chewed dill seeds to promote digestion, and they hung dill garlands in their dining halls, believing the herb would prevent stomach upset. It was also strewn on the floors of banquet halls so that its fragrance would counteract the heavy food smells.
Dill is an erect hardy annual of the parsley family. The leaves are thin, wispy and fern like.
The glossy stem is usually single reaching up to 3 feet. Yellow flowers are borne in umbels. The plant yields two different herbs: dill seed (the fruit of the plant) and dill weed, the top eight inches of the leaves. The seed is hard, light brown.
The flavor of the leaves is a mixture of anise, parsley, and celery with a distinctive green bite on the sides of the tongue.
Dill is an annual that germinates in 21-25 days. The seeds need light to germinate. Dill does not like transplanting so sow directly into the garden. Plantings can be staggered at one to two week intervals to provide a continuous supply of fresh dill throughout the growing season. It will self –sow in the garden.
Once the plants reach a height of 6 inches you can begin to harvest some of the foliage. Seed heads develop about 12 weeks after the sprouting. Cut the seed heads after the first seeds have turned brown. Hang them upside-down in a dry, well-ventilated space and let the seed drop on a tray or in a bag. The best way to preserve the sharp flavor of fresh dill is to freeze the leaves immediately after harvesting.
Recipes:
Dilled Potato Salad
8 medium red potatoes
¼ cup onion, coarsely chopped
¼ cup celery, coarsely chopped
¼ cup walnuts, coarsely chopped
1 hard-boiled egg, coarsely chopped 1 cup mayonnaise
1/8 cup dill flowers, coarsely chopped
Salt and pepper to taste
Boil potatoes until tender. Cool and dice into 1-inch cubes. Toss potatoes with all other ingredients in a large bowl. Refrigerate for at least 1 hour to allow the flavors to meld.
Dill Pesto
1 cup fresh dill
½ cup fresh parsley
¼ cup Parmesan cheese
¼ cup almonds or walnuts
2 cloves garlic
½ cup oil
½ tsp salt
1 cup grated Swiss cheese
Combine dill and next 6 ingredients in a food processor or blender. Process until coarsely pureed. Add cheese and process until mixed. Add extra oil if consistency is too thick.
Dill Sauce
1/3 cup nonfat or low-fat plain yogurt
3 Tbsp reduced calorie or nonfat mayonnaise
¼ cup minced fresh dill
½ tsp Dijon mustard
Dash of hot red pepper sauce
Use on any fish dish.
Surety Dills
12 cups cider vinegar
6 quarts water
3 cups sea salt
1 Tbsp mustard seed
2 Tbsp dry minced onion
1 Tbsp garlic powder
20 dill blossoms
20 bay leaves
Horseradish root, chopped
20-30 cloves garlic
20 whole peppercorns
100 small pickling cucumbers
Bring the vinegar, water, salt, mustard seed, onion and garlic powder to a boil. At the bottom of each clean, hot, quart-sized jar place 2 dill blossoms, 2 bay leaves, 2-3 cloves of garlic, a small piece of horseradish root and 2 peppercorns. Pack in approximately 10 cucumbers. Cover completely with the boiling vinegar. Leave ½ inch headspace.
Process in a boiling water bath for 20 minutes. Let mature for at least two weeks before serving.
return to top
home | upcoming events | classes | teas | plants | gardens | gift shop | visit or contact us